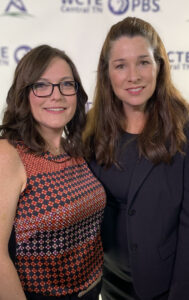 UCHRA Public Transportation will offer a discounted and safe way for Blues and Brews ticket holders to get to their destination safely. 
Recently, Heather Thomas, UCHRA Public Transportation Mobility Manager, joined WCTE President and CEO Avery Hutchins to talk about transportation options during the Blues and Brews slated for Saturday, Oct. 16. 
The Green Go Route that circles the city every hour on Saturday from 10 a.m. to 10 p.m., will allow Blues and Brews ticket holders to ride for free. Riders can catch the Green Go Route at the new bus shelters on Broad Street, near the Putnam County Library. This bus goes around town, from Tennessee Tech University to Restaurant Row, and is available to everyone. This route will be free Saturday, Oct. 16 for Blues and Brews ticket holders. Click here for a map of our Go Routes.
"We appreciate the opportunity to partner with WCTE to provide safe transportation for this event and add a convenient option of travel in Putnam County," said Holly Montooth, UCHRA Public Transportation Director.
UCHRA's Public Transportation recently unveiled a new partnership to meet the changing needs of the community as well. Pick Up Cookeville, Powered By
Uber
, utilizes the Uber app allowing Cookeville riders to schedule and pay for local trips on their smartphones. Participants in Blues and Brews can schedule a ride to or from Dogwood Park for $4. If you live outside the city limits, the app will calculate any additional fee needed, but still at a significant discount.
This partnership with Uber provides the same reliability and safety provided by UCHRA Public Transportation services, but with a new fleet of custom-wrapped vans equipped with amenities like water bottles and cell phone chargers. Simply download the Uber app and select Pick Up Cookeville to schedule trips during extended hours of regular public transportation service. 
Hours for Pick Up Cookeville are Monday-Thursday 11 a.m. until 9 p.m., Friday from 11 a.m. until 1 a.m., Saturday from 2 p.m. until 1 a.m., and Sunday from 10 a.m. until 4 p.m. To learn more about the services offered by UCHRA Public Transportation, visit www.ucpublictransit.com or call 1-833-UC TRIPS. 
This project is funded in part by the Improve Grant and Tennessee Department of Transportation.