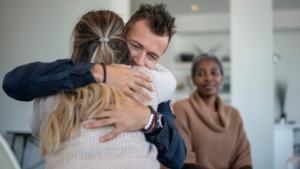 UC Recovery works with individuals for up to two years to help them get back what substance abuse stole from them.
Our goal is to be able to give someone hope, encouragement, direction, and a sense of belonging and acceptance. When enrolled, individuals will obtain a Peer Recovery Coordinator to guide them through the process and get them back on their feet so they can get out of the grasp of substance abuse.
In mid-2020, our agency entered into a partnership with the City of Cookeville to provide resources to individuals in need. This pilot program provides on-call service for Cookeville police officers 24/7 and assists individuals with housing, mental health services, substance use disorders, and other needs.
Since the program's official launch in June 2020, our team has worked with hundreds of individuals; connecting several individuals with a group home/halfway house program and assisting dozens with enrolling in a treatment program.
Long-term treatment programs

In patient/out patient treatment
Getting FUN back into their life
Social and Spiritual Support
For more information on this program, contact our team at 931-528-1127
Client Success Stories
Click any of the images below to learn how we are making a difference in the Upper Cumberland.