UPPER CUMBERLAND — A variety of upgrades have been announced for the Upper Cumberland Human Resource Agency's (UCHRA) transit services in the coming weeks. 
Beginning Tuesday, Nov. 14, UCHRA Public Transportation will begin charging a flat rate of $2 each way for in-county travel. Special discounts, for seniors, people with disabilities, and veterans, are also available for eligible passengers.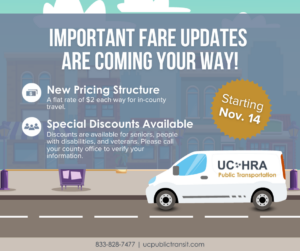 In another move to improve overall efficiency, a new trip management software will go live next week; allowing UCHRA Public Transportation to be more efficient without requiring passengers to schedule trips on specific days and providing a more user-friendly experience for passengers. 
"Our old fare system was designed to encourage passengers from outlying areas of the county to coordinate their trips on certain days to improve efficiency," said Holly Montooth, UCHRA Public Transportation Director. "We can introduce a more straightforward fare structure as a result.
"We're very excited to bring these technological innovations to our rural public transportation users in the Upper Cumberland region," Montooth added. "We're also thrilled to announce the launch of the UCHRA Transportation app." 
In the coming weeks, a new app, UCHRA Transportation, will also launch. The UCHRA Transportation app is designed to better serve the agency's existing PickUp Upper Cumberland passengers who currently access this popular on-demand service through the Uber app. This new app, UCHRA Transportation, is available for download via the Apple App Store and the Google Play store.
For more information about UCHRA's Public Transportation services, visit www.ucpublictransit.com or call 833-828-7477 to connect with the department's call center.