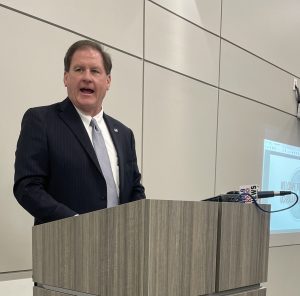 UPPER CUMBERLAND — During the agencies' annual meeting, several employees of the Upper Cumberland Development District (UCDD) and Upper Cumberland Human Resource Agency (UCHRA) selected as departmental employees of the year, were recognized for their efforts. Two additional employees were recognized by Executive Director Mark Farley for their outstanding work during the 2022 calendar year.
"This is an exciting time for the Upper Cumberland region," Farley said. "I can honestly say that we have the right leadership in place. We have a vision of what we can be along with a plan to accomplish it. I believe that we have the right people to be successful."
Several UCDD and UCHRA employees were recognized as having gone above and beyond during 2022 and were named as their respective department/program 2022 employee of the year:
Mary Harris, Administrative Services

Sara Martin, Area Agency on Aging and Disability

Amy Reels, Housing Services

Tyler Asher, Economic and Community Development

Linda Lynn Kennedy, Finance

Silas Stoddart, Planning and Community Development

Marcia Riddle, Relative Caregiver Program

Deanna Emmons, Public Transportation

Heather Dragon, Case Officer/Community Intervention

Teresa Kemper, Juvenile Case Officer/Community Intervention

Linda Barker, Community Services

Melissa Haney, Putnam County Office

Laura Haynes, Public Transportation

Penny Hix, Clay County Office

Rebecca Deron, Cumberland County Office

Kathy Dodd, DeKalb County Office

Suzan Copley, Fentress County Office

Lea Ann Payne, Jackson County Office

Misty Lytle, Macon County Office

Laura Andrus, Smith County Office

Sue Brown, Overton County Office

Rebekah Acre, Warren County Office

Darleen Hunter, Van Buren/White County Office
Additionally, Dr. Myra West, Director of Livingston's Tennessee College of Applied Technology (TCAT) was recognized for her many years of dedicated service to the Upper Cumberland. Dr. West had previously announced plans to retire after having spent more than 34 years with the Tennessee Board of Regents System.
Two specialty awards presented by UCHRA were also presented. The UC Spirit Award and the Rebecca Harris Diamond Award. The UC Spirit Award recipient is representative of the region and people we serve, displaying a true Volunteer spirit, tenacity and steadfastness, and a heart for serving others. Established in 2020, this award recognizes the most loyal of employees. The 2022 recipient is James Gribble, Recovery Coordinator for UCHRA's Substance Abuse Solutions program.
Also established in 2020, the Rebecca Harris Diamond Award recipient displays grace under pressure, exemplifies servant leadership, leading by example. They are a friend and mentor to all, a problem-solver, and make work more enjoyable. The 2022 recipient is Sherry Bilbrey, UCHRA Office Manager.
In addition to recognizing staff members, the agencies also recognized Fairgrounds Apartments in Fentress County as the 2022 Housing Complex of the Year. This complex offers one- and two-bedroom apartments for individuals with verifiable disabilities.
Monterey Senior Center in Putnam County was named the 2022 Senior Center of the Year. Since reopening following COVID-19 restrictions, they have enjoyed taking day trips in their new bus and hosting activities such as ice cream socials, weekly presenters with a covered dish meal, and craft classes. During the UCDD and UCHRA annual meeting, the center was presented with a check for $8,000 from the Tennessee Commission on Aging and Disability (TCAD).
Cumberland County was designated the 2022 Community of the Year. Known for artistic excellence, outdoor adventure, and a strong business base, Cumberland County is also centrally-located along Interstate 40 providing manufacturers and logistics companies easy access to global markets. The community has celebrated numerous recent wins including being selected as the home of the state's first Buc-ee's travel center.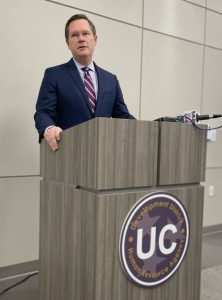 The keynote speaker, Cameron Sexton, Speaker of the House of Representatives, was declared UCDD's 2022 Legislator of the Year. During his address, Sexton commented on the shared administrative and management agreement between UCDD and UCHRA.
"It's great to be here where you combine two agencies in one and you actually see how things should work in our state," Sexton said of the arrangement.
2022 Award Recipients
Scroll and click below to view photos of award winners.